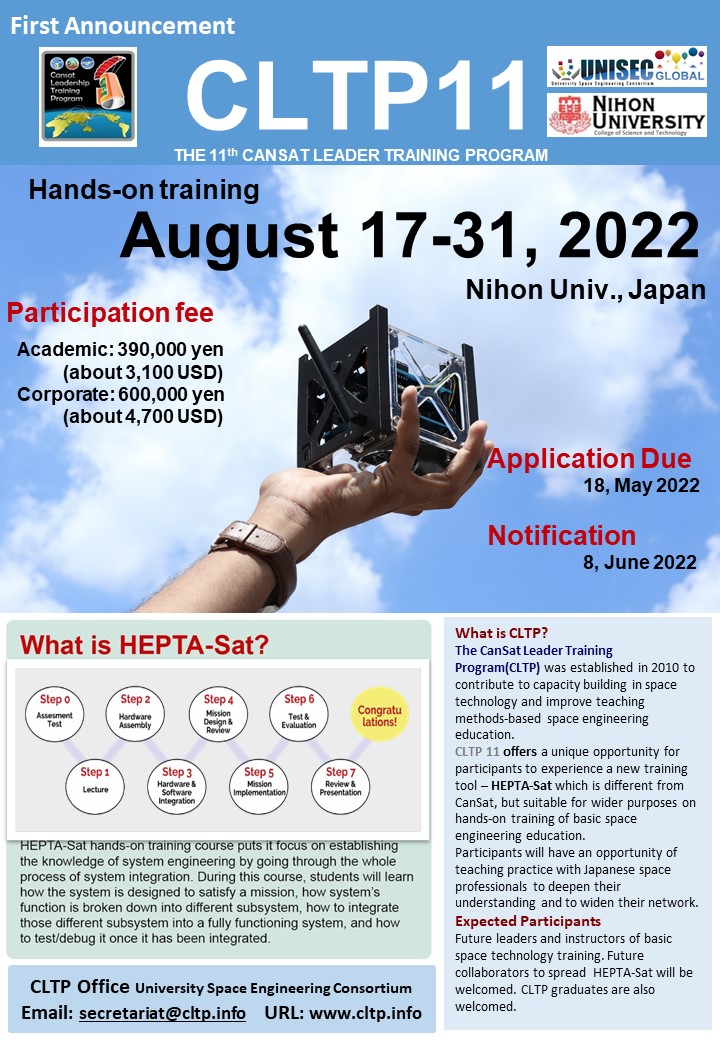 Download (365 KB)
How to Apply
CLTP 11 Announcement
CLTP11 will be organized in Tokyo in August 2022.
(Depending on the COVID-19 pandemic situations, the schedule and conditions might be changed)
CLTP is a program on space education. It aims to learn the actual process in space development by going through the whole process of satellite system integration, using the HEPTA-Sat kit. It is a training program for researchers and educators, and are expected to return the results of the training to their institutions to lead the space development.
Date

Preliminaryonline-Lectures:August 1-15, 2022
Hands-on Training: August 18-31, 2022(UTC + 9:00)

Venue

Nihon University(Chiba, Japan, TBC) and AOTS(Tokyo, Japan, TBC)

Eligibility

Professors/instructor at university/research institutes
(Ph. D degree holders are preferable)
Graduate students who are committed to teach students in their home countries.
Company employees who want to study CLTP as an educational and training tool.

Application Due


May 18th, 2022(UTC+ 9:00)

Deadline for the Online Assessment Test


May 31st, 2022(UTC+ 9:00)

Notificationof Acceptance


June 8th, 2022(UTC+ 9:00)

Participation Fee

Academic fee 390,000 JPY, (about 3,103 USD)
Corporate fee 600,000 JPY, (about 4,774 USD)
(1 USD = 125 JPY depending on the exchange rate)
(including the rental fee of HEPTA-Sat kit, materials and equipment and other charges)
Costsfortravelfees,dailyexpenses(accommodation,food,transportation, etc...) in Japan (about 15 days )are self-paid.

COVID-19 related information

Everytrainee, teaching&supportstaff member and othersrelated to the program shouldweara face mask every time (except eatingor drinking) during the training session.
Everyone related to the program should strictly obey the guideline manual to ensurea healthy and safe training environment.
Duringthe program, the rooms and equipment are kept clean and sanitized.
The rooms and places forprograms arefrequently ventilated.
Duringthe program, participants willbe requiredto be seated with a proper distance.

Please contact us forfurtherinformation.
Cancellation Policy

*Cancellation policies are to be delivered.
*Please contact us on (mail) for COVID-19 related cancellations.
CLTP11 is supported by METI.
General Information
CLTP11 is supported by METI.
Sponsor


Sakura Rubber Company Limited