The CLTP graduates are leading their CanSat training programs in their countries and regions.

Google Earth required

(5 MB)
CanSAT training program will be held on August 21-29, 2015
Location: Terzioğlu campus, Çanakkale Onsekiz Mart Universitesi in Çanakkale, Turkey.

See the poster (left)
Mansur Çelebi, Class of CLTP1

UNISEC-NIGERIA
CanSat/water Rocket Leadership Training Program (CRLTP), organised by UNISEC-NIGERIA in collaboration with the African Regional Centre for Space Science and Technology Education in English (ARCSSTE-E) Obafemi Awolowo University, Nigeria.
Movie on Facebook
Ogechukwu Stanislaus Nnadih, Class of CLTP2

(0.5 MB)
CanSAT training course was organized on June 16-29, 2014
Location: ITU Ayazağa campus, Maslak, Istanbul, Turkey.

See the poster (left)
Mansur Çelebi, Class of CLTP1
Space System Technology Laboratory at Cairo Univ. has hosted 4 CanSat training programs and is hosting the 5th program in Jan-Feb, 2015 in Giza, Egypt.


Flyer (1 MB)
- CTP1: July 20 –August 1, 2011
- CTP2: January –February, 2012
- CTP3: January –February, 2013
- CTP4: February –March, 2014

Prof. Ayman Hamdy Kassem, Class of CLTP3
Dr. Ahmed Mohamed Rashed Desoki, Class of CLTP3
Prof. Mohammed Khalil Ibrahim, Class of CLTP1
All Nations University College Main Campus, Koforidua, Ghana
The first CanSat launch in Ghana was successfully conducted and witnessed by 1200 academic and industrial audience and the press.
Manfred Quarshie, Class of CLTP2
Redeemer's high school, Redemption Camp, Lagos-Ibadan Express way, Nigeria
This outreach program was organized to promote education of space science. CanSat development was also introduced. The participants were so impressed by the idea of having or developing a can-sized satellite.
Ogechukwu Stanislaus Nnadih, Class of CLTP2
CanSat Training Seminar and lectures have been held by Cairo University, Egypt as below.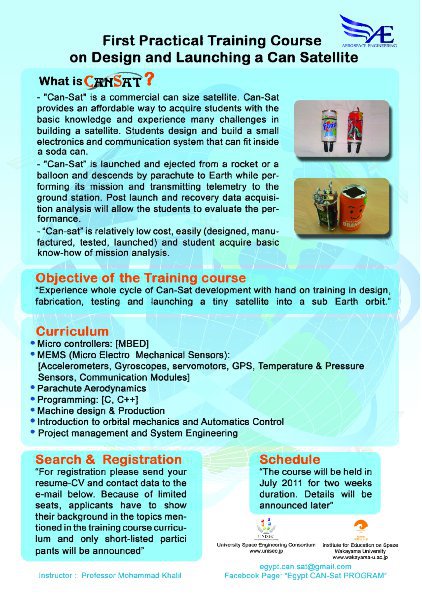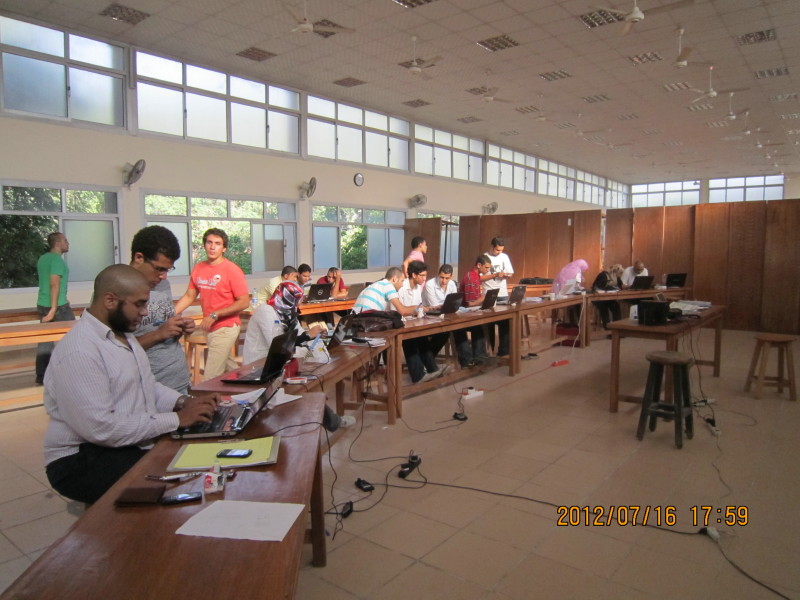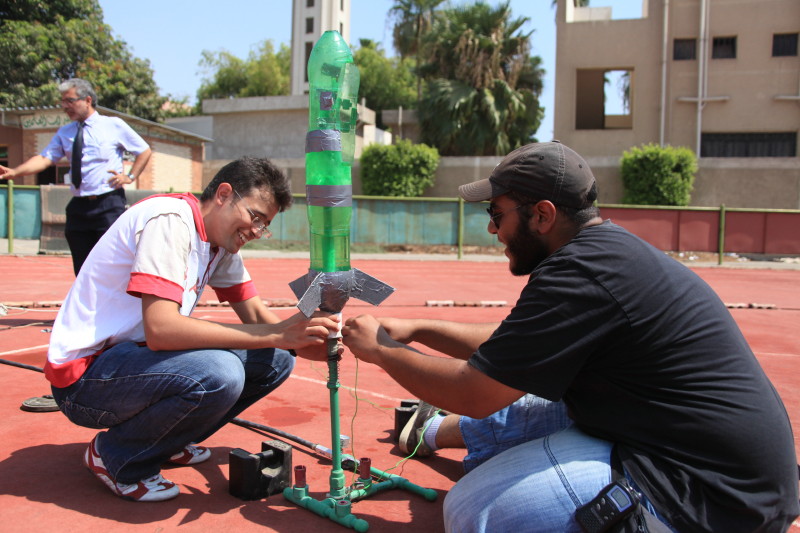 CTP1: First CanSat Training Program July 20 – 1 August 1, 2011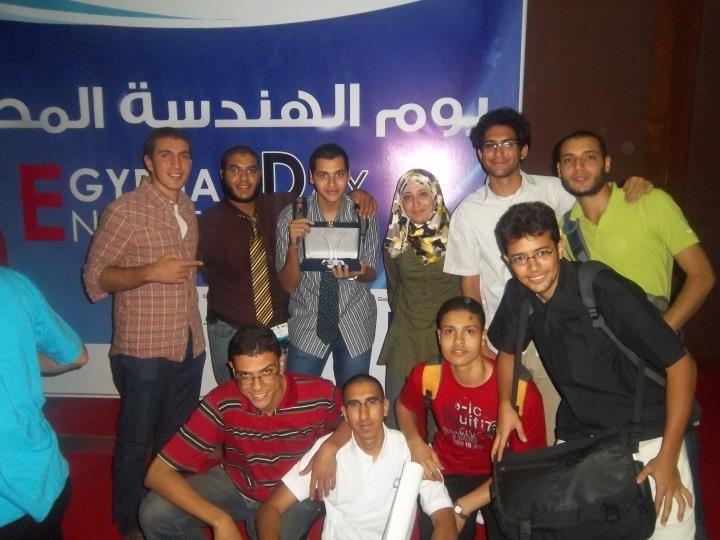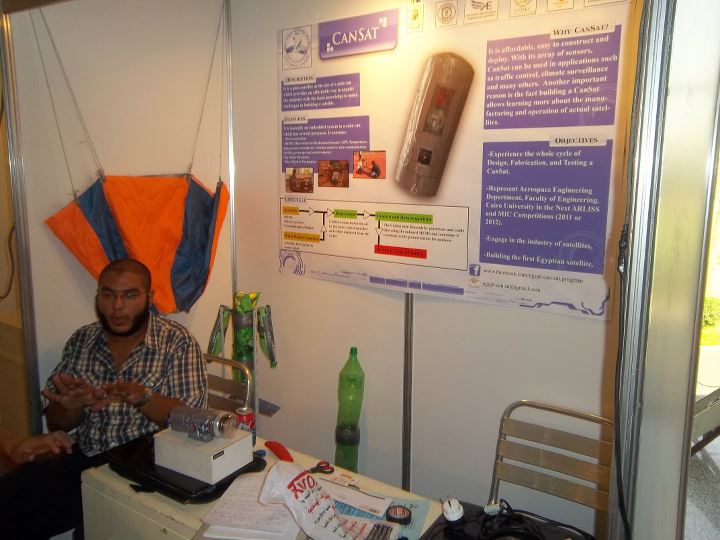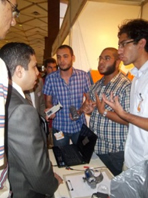 EED: Egyptian Engineering Day, First Place Award for the Best Mechanical Engineering Project, September 6-8, 2011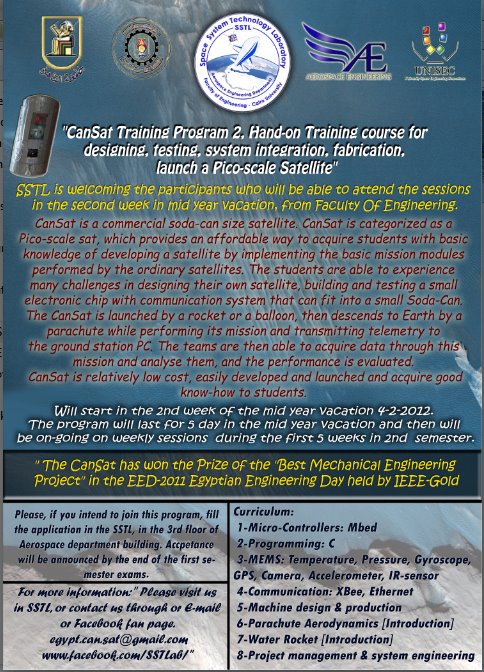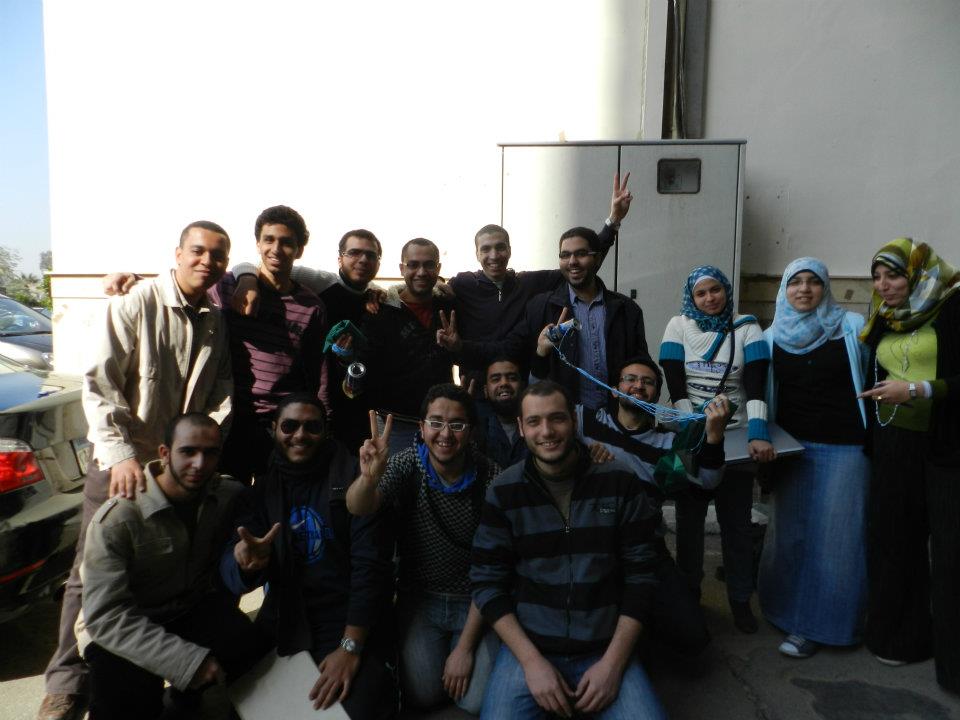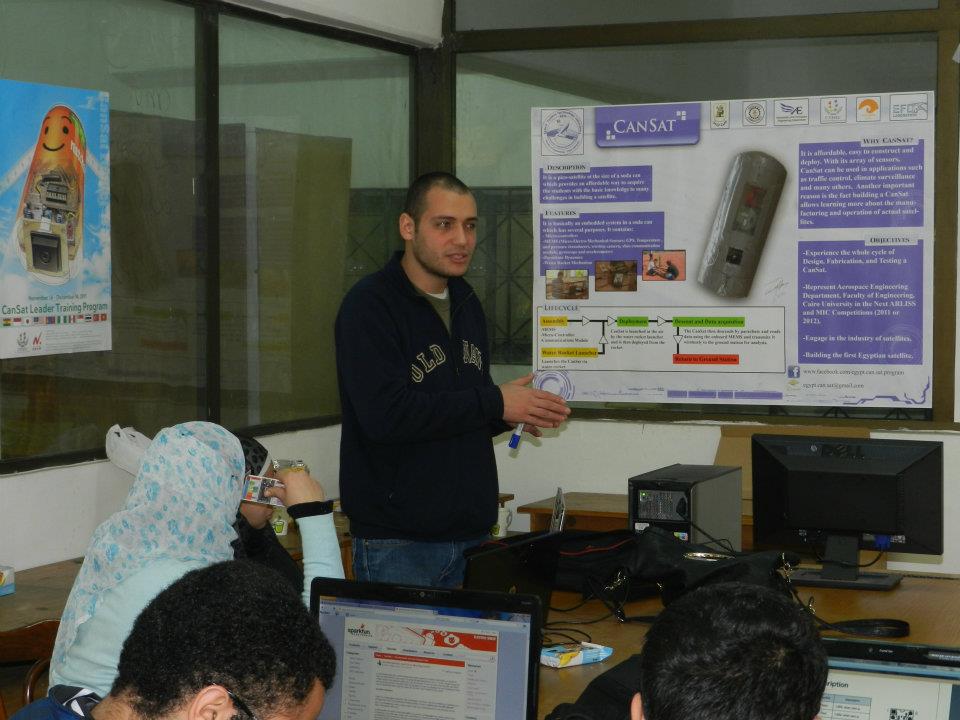 CTP2: Second CanSat Training Program Jan 25– February 5, 2012
Through Dr. Khalil's efforts, the CTP2 students (2nd CanSat Training Program in Egypt) won the first place of famous student competition during a research conference in Egypt organized by the American University in Cairo and titled "Entrepreneurship and Innovation: Shaping the Future of Egypt". The paper title was "National e-commerce Rescue from Internet-cut off crisis using Nano-satlliate Constellation".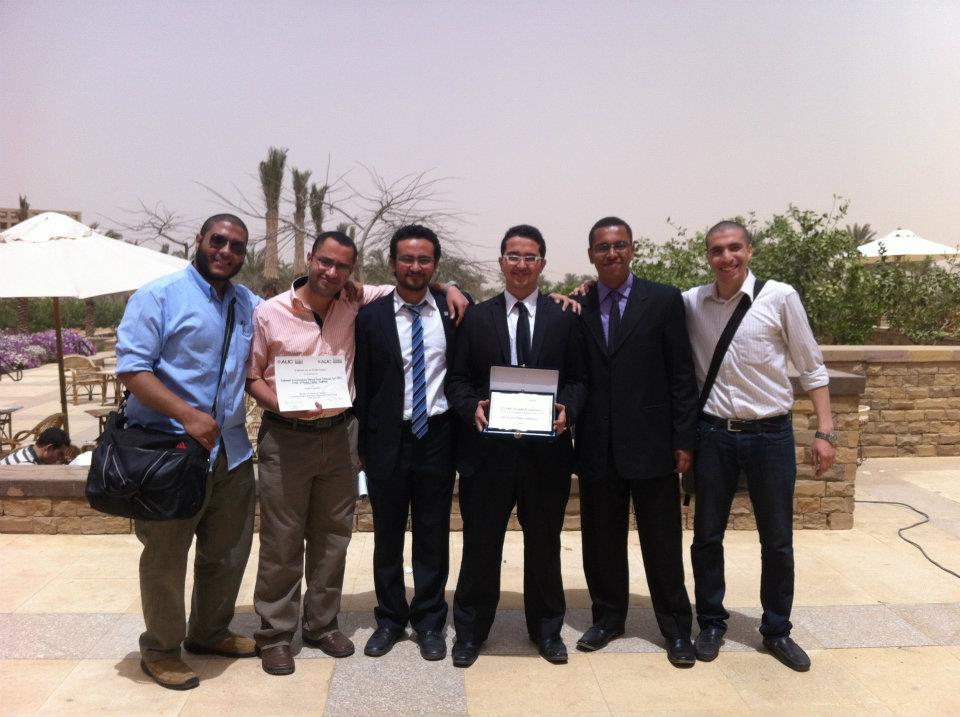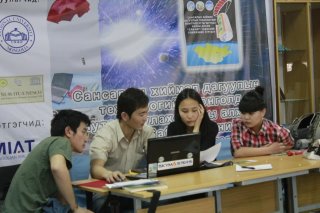 National University of Mongolia and Mongolian University of Science and Technology have conducted short-term CanSat training program from April 13-28. They will hold the 2nd program around the middle of December co-organized by UNESCO.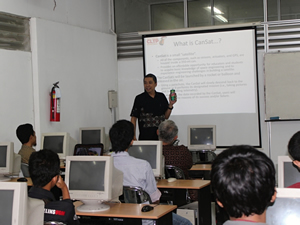 Openig Sessions by Dr. Agfianto Eko Putra (Class of CLTP2)
Cansat Training Program (CTP 2012) for 3 months for students has started since Jan 11, 2012 in Aerospace and Embedded Electronics Research group (AEERG) Dept. of Computer Science and Electronics Faculty of Mathematics and Natural Sciences, Universitas Gadjah Mada, Yogyakarta, Indonesia. Click here for Dr. Putra's Blog.
Dr. Agfianto Eko Putra (Class of CLTP2)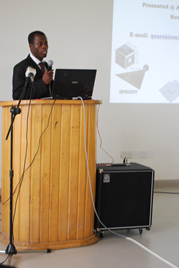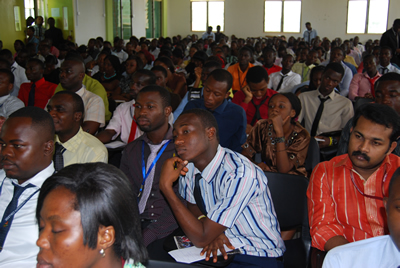 Mr. Manfred Quarshie (Class of CLTP2) and Participating Students

The first conference on Space and Satellite technology was held on February 2, 2012 which attracted universities researchers, Vice chancellors from Polytechnic and another university media(Print and electronic) and policy makers.

Organised by : Manfred Quarshie
Hosted University: All Nations University College
Resource Person: Manfred Quarshie
Total participants: 432

Below was the Content of presentation
Introduction to Satellites
Satellites applications And benefits
Types and Use
About Cansats And CubeSats
What is CubeSat?
Why universities are now building and launching Cubesat
What is CanSat?
Why CanSats and why should Ghana go for it?
Manfred Quarshie, Class of CLTP2